About Us
Customer Testimonials
"We used Tauler Heating & Cooling to replace our water heater at a good price. They did a fantastic job and made it look a lot better than it did before. We've also used them for AC and furnace tune ups and won't use anyone else! Support local!"
- Elizabeth Harloff
"Highly recommend Tauler, they did exceptional work in my home. The owner Luis and his amazing crew were patient with my questions and even offered some excellent council on how to better maintain our new furnace and home."
- Brad Demijohn
"Given my experience I would without hesitation recommend Mr. Tauler for any installation. He patiently explained the options and alternatives of the installation. He provided a quotation that included the entire installation, no hidden surprises. He provided the phone numbers to several clients, all of whom were very satisfied with Mr. Tauler's work. Mr. Tauler arrived at the appointed time and completed the installation in the time frame he quoted, despite some glitches provided by the supplier. Clean up was impeccable. Nothing was left behind and the work area was restored to its former condition."
- Darlene Pendell
"WOKE UP AND FELT COOL TODAY, THANKS TO THE TAULER WARRIORS FOR INSTALLING A BRAND NEW, MONSTER OF AN AIR-CONDITIONER IN LESS THAN 4 HOURS. Very professional and intelligent group of men. They were quick and extremely quiet. I was able to work from home and take care of my two kids, all the while forgetting they were downstairs. Offered water and coffee several times, but these guys didn't stop working until they were done. Very grateful for them. Thanks Eddie! Your father is a great man!"
- mecafik
"Luis has been doing work in our area since January 2000 and is a Contractor in good standing with our Inspections Dept. He has an active license and has consistently pulled all permits necessary to complete his work and has been a conscientious workman to complete all his contracts."
- Robert Helmus, Plumbing & Mechanical Inspector
"Our company is very satisfied with all work performed, and will continue to use the services provided by Tauler Heating & Cooling in the future.Furthermore, I would recommend Tauler Heating and Cooling for all your heating and cooling needs. They are cost conscious, attentive to detail, and friendly to work with."
- Bill Moerdyk, Site Manager, Habitat for Humanity
Trusted in the community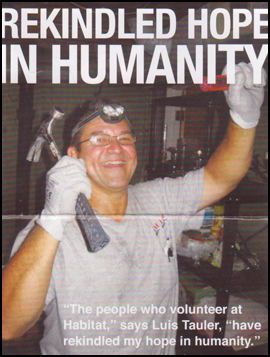 Tauler Heating & Cooling has been in business since the turn of the century. We have always been an owner-operated and family-controlled business. Customers typically find us by word of mouth and referrals. Our company has always assisted organizations like Habitat for Humanity and West Michigan Veterans, Inc. We also participate in special programs like DTE Energy's free furnace tune-ups.
Consistency, integrity and reliability are the hallmarks of our reputation. We remember, you expect the highest quality standards from us.
Our price point is competitive and we offer financing to those who qualify. We are also one of a select few contractors who are Energy Star 3 rated in the West Michigan area. We look forward to expanding our horizon and working for you in the future.
Our staff is represented by 3 - 5 people at all times.